Bellville Acres Dairy Goats
HOME OF THE UDDER COLA
We breed for high milk production along with breeding for quality show animals.
2599 Eddycreek Road
Eddyville, KY 42038

(270) 388-9367
bellvilleacres@ziggycom.net
To Find out More About us Click Here
r Pictures of Our Farm and Live Stock CLick here!
This ALPINE WEB RING site owned by Irma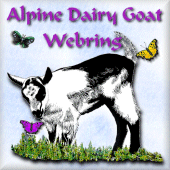 [Previous | Random Site | Next | List Sites]
" Be thou diligent to know the state of thy flocks, and look well to thy herds. For riches are not forever: and doth the crown endure to every generation ? The hay appeareth, and the tender grass sheweth itself, and the herbs of the mountains are gathered. The lambs are for thy clothing,and the goats are the price of the field . And thou shalt have goats' milk enough for thy food, for the food of thy household, and for the maintenance for thy maidens "
Proverbs 27 : 23-27 KJV